Introduction
The Hong Kong Veterans Commemorative Association is pleased to offer unique commemorative plaques for installation in publicly accessible venues. To date, plaques have been installed in over 60 locations across Canada.
Purpose
These colourful and informative plaques include text and graphics that depict the Battle (Defence) of Hong Kong, and are intended to commemorate the 1,976 Canadians who fought against the Japanese Imperial Army during December 1941.
Plaques are available in vertical and horizontal orientations as shown below. Click the images for a more detailed view.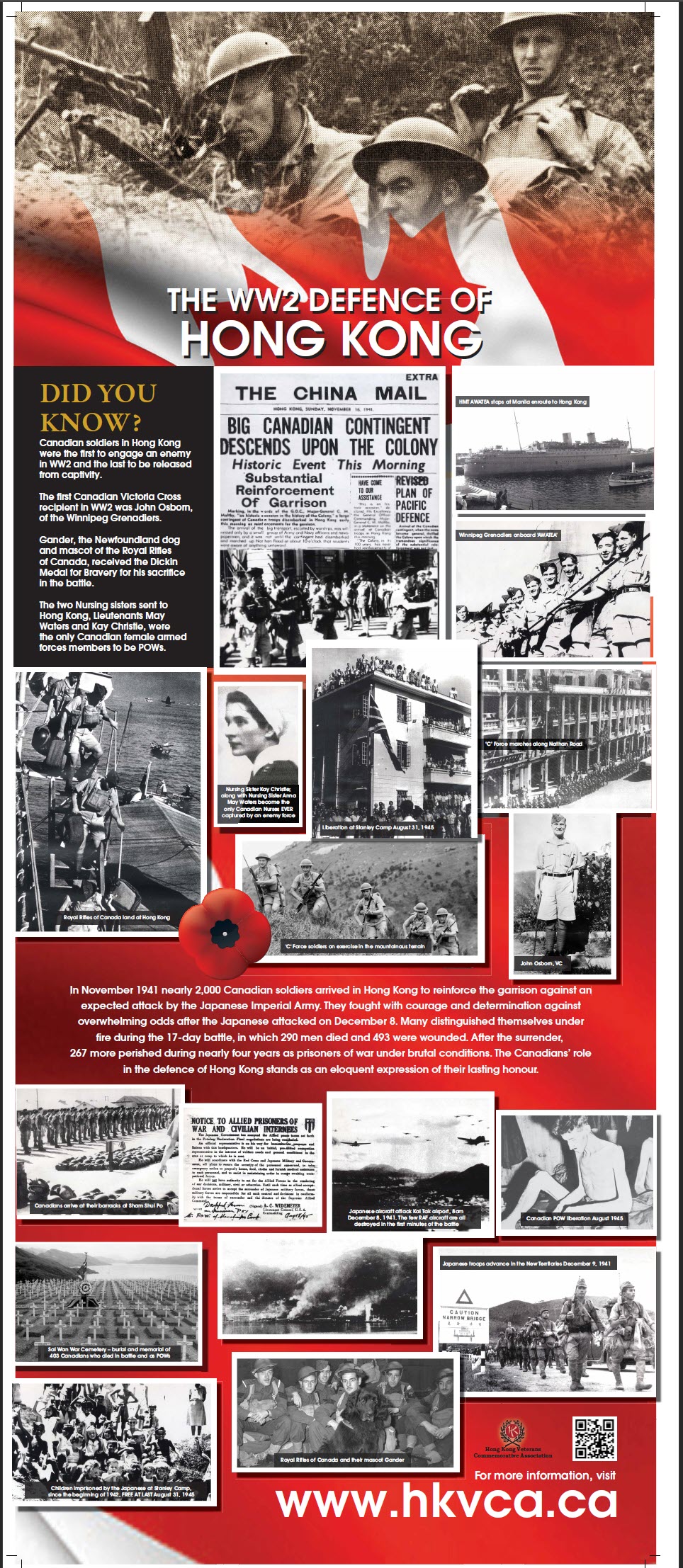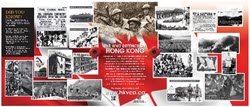 How To Obtain a Plaque
Click on the "Contact Us" link at the top right of this page to start the ordering process. Tell us your name, where you would like to install the plaque and whether you would like the vertical or horizontal version.
Possible Venues
As our mission is one of education, venues supporting public access will garner the widest exposure. Legion branches are a good choice, as many Hong Kong Veterans were Legion members. Other possible venues include:
Community Centres,
Museums / Interperative Centres,
Retirement Homes,
Sports Centres (look for "Memorial" in the name),
High Schools.
Responsibilities
Plaques are provided free of charge for pickup at the nearest Staples store, but the cost of installation is the responsibility of the sponsoring organization (e.g. Legion, high school, etc.). This includes any mounting fixtures such as brackets, and labour.
It must be located indoors, and in a location where it can easily be seen by people using the facility, such as a lobby.
There should be a dedication service at which the plaque is unveiled or presented. Family and friends of local Hong Kong Veterans should be invited, and should be given the opportunity to speak. The local sponsor is responsible for arranging the ceremony, along with any related costs (e.g. catering, if any).
Local media should be invited to cover the plaque unveiling.
A photograph(s) should be taken showing the mounted plaque, and including attendees of the ceremony, if possible. Photographs should be sent to webmaster@hkvca.ca for possible publication in the HKVCA's newsletter, as well as posted to our Facebook Hong Kong Veterans Tribute Group and on Instagram.
The plaque must not be altered in any way without the written permission of the President of the HKVCA.
Plaque Mounting Details
Plaques are available in both vertical (portrait) and horizontal (landscape) versions. Please specify which you require upon ordering.
Dimensions of the vertical version are: 18" wide by 44" high (46cm wide by 112cm high) x approximately 0.4 inch (1cm). Dimensions of the horizontal version are: 44" wide by 18" high (112cm wide by 46cm high) x approximately 0.4" (1cm).
It is supplied mounted on a hard board, approximately 0.4" (1cm) in thickness. The plaque may be mounted by drilling a hole at each corner and affixing to the wall with screws, or alternatively by using mounting brackets.
It should be mounted permanently, and not hung by a wire.
Supporting Documents
Completed and Planned Sites
Thinking of approaching a venue regarding plaque installation? Check out the list below to make sure that we've not already visited them.
Installation Complete
BC
Victoria, BC Legion Branch #127
Westbank, BC Legion Branch #288
Vavenby and District (Clearwater), BC Legion Branch #259
Penticton, BC Penticton Museum & Archives
Nanaimo, BC Vancouver Island Military Museum
Prairie
Cardston, AB Legion Branch #170
Swan River, MB Legion Branch #39
Edmonton, AB Norwood Legion Branch #17
Moose Jaw, SK Legion Branch #59
Calgary, AB Col Belcher Retirement Home
Regina, SK Legion Branch #001
Selkirk, MB Legion Branch #42
Saskatoon, SK Nutana Legion Branch #362
Russell, MB Legion Branch #159
Calgary, AB Legion Branch # 285
Estevan, SK Legion Branch #60
Winnipeg, MB Neil Bardal Funeral Centre
High River, AB Legion Branch #71
Stonewall, MB Veterans Memorial Sports Complex
Winnipeg, MB Prince Edward Legion Branch #81
Pilot Mound, MB Legion Branch #62
Dryden, ON
Winnipeg, MB John Osborn VC ANAVet
Red Deer, AB Royal Canadian Legion Branch #35
St. Laurent, MB Métis Legion Branch #250
Ashern, MB Legion Branch #57
Portage La Prairie, MB Legion Branch #65
Winnipeg, MB St. James Legion Branch #57
Lundar, MB Legion Branch #185
Lac du Bonnet, MB Legion Branch #164
Medicine Hat, AB Legion Branch #17
Brandon, MB Legion Branch #3
Charleswood Legion Dec 8
Eriksdale, MB Legion Branch #140
Fisher Branch, MB
Unit 283 ANAVETS Winnipeg, MB
Carman Legion, Carman, MB
Port Arthur Branch #5, Thunder Bay, ON
Ontario
Niagara Falls, ON Legion Branch #479
Port Colborne, ON Legion Branch #56
Sutton, ON Legion Branch #356
Port Credit, ON Legion Branch #82
London, ON Victoria Hospital Parkwood Site
London, ON Victory Legion Branch #317
Chesley, ON Legion Branch #144
Burlington ON Legion Branch #60
Kingston, ON Legion Branch #631
Gravenhurst, ON Legion Branch #302
Sarnia, ON Legion Branch #62
Brechin, ON Legion Branch #488
Ottawa, ON Barrhaven Legion Branch #641
Waterloo, ON Legion Branch #530
Smiths Falls, ON Legion Branch #95
Niagara Military Museum
Red Lake, Ontario Legion Branch #102
London, ON, City Hall
Quebec
RCL, Bury, QC, Branch #48
Royal Canadian Legion, Gaspé, QC, Branch # 059
Royal Canadian Legion, Mount Sorrel (New Carlisle) QC, Branch # 064
RCL, Chandler, QC, Branch # 203
RCL, New Richmond, QC, Branch # 172
RCL, Barachois, QC, Branch # 261
Bay Chaleur Military Museum, New Richmond, QC
Atlantic
Arichat, NS Legion Branch #150
Truro, NS Legion Branch #026
---
Under Exploration
Edmonton, AB Provincial Museum (newly opened)
Port Colborne, ON Cadet Corp
Cobourg, ON Legion
Halifax NS, Legion Branch #142 (Fairview)
Ordering for Personal Use
Plaques are available for individuals as well. If you would like to purchase one, please let us know by selecting the "Contact Us" link at the top of this page and we'll get back to you with instructions. Cost is about $100 plus tax and shipping.
---
Originally Published: October 2017
Updated: 21 September 2023