Bill Mayne
by Susan Peterson, The Sentinel Courier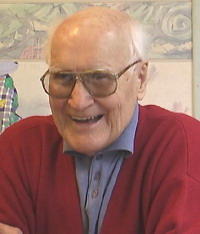 I had the opportunity to meet Bill Mayne, the last of Pilot Mound's Grenadiers this past summer. I found him to be a quiet, distinguished gentleman, with a quick sense of humor.
From that brief encounter, I concluded the young Bill Mayne was a man who chose to turn the horrendous cards dealt to him into a hand that positively impacted others like himself, work which would eventually earn him the Order of Canada.
"We survived," he smiled, during a conversation with Etheleen Hay and Albert Agerbak regarding the continued health problems of the Grenadiers in the years following their release from captivity. A revelation for me regarding this man, as instead of opting for a life of self pity, he chose instead to bear his burden and move forward.
He holds no ill-will toward the Japanese, although he is understandably uncomfortable when in their presence. "The ones I have any resentment for were either jailed or dealt with appropriately," he claims.
He also doesn't blame the Canadian Government for the situation the Grenadiers found themselves in at Hong Kong. "It wasn't through neglect that we didn't have arms," he explained in reference to the ship carrying supplies being diverted to Manilla, "It was through happenstance. Having them wouldn't have done us much good anyway." Bill is partially blind as a result of the malnutrition he suffered as a prisoner of war in Hong Kong. At the time Jack Hay was taken to the camps in Japan, Bill was so terribly ill Jack didn't believe he'd see him alive again, and he was the second person Jack asked about when he arrived home.
Once back in Canada, Bill attended a rehabilitation school in Toronto under the offices of the CNIB, and attempted to farm when he returned to Pilot Mound. Between the constant outpatient trips he and the other Grenadiers made into Winnipeg for treatments, and his impaired vision, Bill eventually made the decision to move to Toronto to attend the University of Toronto where he obtained his B.A., majoring in Economics and Finance.
In 1951 he began working with the CNIB moving through various positions including Director of Personnel & Labor Relations - Ontario Division and National Personnel Consultant on Personnel Administration and Industrial Relations for the CNIB across Canada.
In 1970, he became Director of CNIB war blinded, and in 1975 decided to concentrate fully on War Blinded Veterans' Services. This enabled him to assist other war-blinded veterans, either individually, or in groups, by working with DVA, the Canadian Pension Commission and other related agencies to seek pension adjustments and increases on an individual level or as general increases.
Bill was also a founding President of the FJL Woodcock/Sir Arthur Pearson Association of War Blinded Scholarship Foundation. This was founded in 1959, and provides assistance and encouragement to blind and visually impaired students to continue their studies. By 1992, the scholarship had been restructured as a self-sustaining foundation. It has made many appearances before Parliamentary Committees on matters related to blindness resulting from military service, and has worked diligently on behalf of Canadian veterans in general. The association is active in formulating the policies and procedures of Veterans Affairs, and is a member of the National Council of Veteran Associations. (Info courtesy CNIB)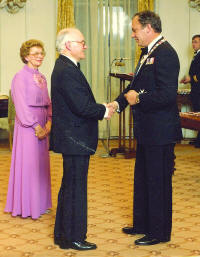 Bill also worked at arm's length in the fight with the Japanese government for reparation to the prisoners of war. This was a battle never won, as according to Bill, "The Japanese won't admit to these atrocities." In the end a reparation was paid by the Canadian Government, to the resentment of some Grenadiers. Not so with Bill. "I didn't give a damn who paid it," he chuckled.
Dan McDonald, then Minister of the Department of Veterans' Affairs, recommended Bill for the Order of Canada for his work. It was awarded to him in April of 1982.
Bill Mayne is currently 91 years old and lives in Thornhill, Ontario.