Hartley Winram (Buzz), Richard Currie (Dick), Edwin Currie
Submitted by Pat Winram
I am going to combine the information on these three as they were not only brothers by family, but by the horrific memories of P.O.W. camps. Buzz Winram was born to Asenath and James Winram, the youngest of eight children. In 1930 he married Etta Currie and they moved to Neelin to start a small store and lunch counter. In 1935, they started a mail contract delivering the mail to Cartwright and bringing it back. In 1937 they were blessed with twins, Patricia and William. William died two days later.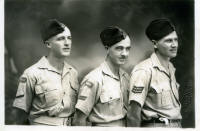 In 1939 Buzz, along with Etta's brothers Dick and Ed Currie, joined the Winnipeg Grenadiers. They spent 16 months in Jamaica before they were sent to Hong Kong, where they suffered four years of torture and starvation. Etta carried on with the business until Buzz returned.
All three returned from Hong Kong but their health was never good. Buzz was very active in the Legion and tirelessly enjoyed helping veterans get medical care or pensions. He was District Commander for 10 years, then Honorary President for a number of years. He received the Legion Order of Merit.
Buzz and Etta moved to Carberry when they retired from the post office to be close to daughter Pat and her three children, Terry, Mark, and Tracy.
Buzz died in 1977 after suffering tremendous health problems from his prison years. Buzz was buried in Pilot Mound which was always home to him. Over 500 people attended his funeral. It was very special for Buzz's family, and especially his grandchildren, to see so many veterans come to honour their grandfather.
Richard Currie (Dick) was born to Angus and Barbara Currie. The Curries were enthusiastic participants in all the Goudney School activities, especially sports. Dick married Stella Kelly in 1934 and operated a shoe repair business in Pilot Mound until he enlisted in 1939 with the Winnipeg Grenadiers. Dick and Buzz were together when they were first taken prisoners, but were separated in different camps toward the end.
When Dick returned to civilian life, he started a shoe repair shop in Sioux Lookout, Ontario. Dick did not have any children of his own, but he was a favorite uncle of his nieces and nephews and their children. Dick returned each year to spend Christmas with his mother and after her death, continued to come to Neelin so he could be with Buzz and his family. Etta always said that Dick and Buzz fought the battle of Hong Kong every Christmas all over again. Dick had very bad health in his later years and died at Sioux Lookout, Ontario. The family, however, brought him home to be with his comrades.
Edwin Currie was the youngest of the Angus and Barbara Currie family. He loved sports and was an active participant. He just turned of age so he joined the Grenadiers with Dick and Buzz. They always teased him about being the baby of the Grenadiers in 1939. He served in Jamaica with them and was taken prisoner in Hong Kong with them. However, he was sent to a different camp and was separated from them during their captivity.
After the war he worked for a time at Souris, where he married Ena McRae in 1948. They then moved to Marathon, Ontario. He was a very supportive father to his daughter Cheryl and sons James and John. Ed curled in the Ontario provincial playoffs while living in Marathon. He died in Marathon relatively young. At his funeral, the whole community came to bid goodbye. He was a friend to all he knew, and those that knew him.