Biography
May Waters was an independent woman who was decisive and determined in a practical way. As a very caring person, she dedicated her life to helping others obtain better health.
May Waters' life began January 21, 1903 in Strathroy, Ontario. In September 1911 she, her parents and three brothers, Doug, Mac and Jack, moved to 420 Rosedale Ave., in Winnipeg, Manitoba. She attended Lord Roberts and Kelvin Schools, graduating as a registered nurse from Winnipeg General Hospital in 1927. She began her nursing career in the Ninette Sanatorium, December 1927 where she nursed tuberculosis patients until April 1929. The challenge of working with a contagious disease was never an issue with May as we learn later of other experiences in her life.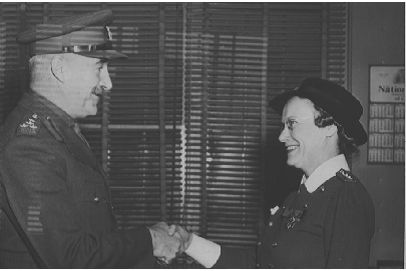 In May 1940, May Waters was appointed to the nursing service, Royal Canadian Army Medical Corp. (RCAMC) and in October 1941, she left Canada with another nursing sister, Kay Christie and "C" Force Battalion to serve in Hong Kong. "C" Force was a composite Battalion of the Winnipeg Grenadiers, Royal Rifles of Canada and various units of a Headquarters support group that was sent to Hong Kong to assist the British in defending Hong Kong from a Japanese invasion. The Battle lasted 17 days before the British surrendered and these brave Canadians began a new life as Prisoners of War (PoW) for 44 months, at the will of the Japanese captors.
When Hong Kong fell on Christmas Day 1941, May Waters and Kay Christie, were nursing in a British military hospital looking after the wounded, many of men were the Winnipeg Grenadiers that they knew so well.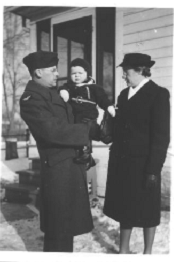 On August 10, 1942, the hospital was taken over by the Japanese and the nursing staff personnel were moved to Stanley camp. The men were a great concern to May and the other medical staff, as they not only had to survive their wounds but the lack of food, lack of medical supplies and the ill treatment of their captors. Because of the adverse conditions, their existence was threatened by additional diseases like tuberculosis, malaria, Beri Beri and other tropical diseases that are contagious as well as avitaminosis from the lack of food. May's experience in the sanatoriums was a benefit to the men that were stricken with tuberculosis and possibly contributed to the those few men that survived the epidemic.
May valued her privacy so her years in confinement during the Japanese occupation of Hong Kong were very hard on her. However her determination to get the job done and care for the men that suffered so, was her main objective. She seldom spoke of this dark time in her life other than to say that the officers were treated better than the enlisted men. She also had mentioned about trying to keep the soldiers strength up by making soup in a steel helmet for the lack of supplies.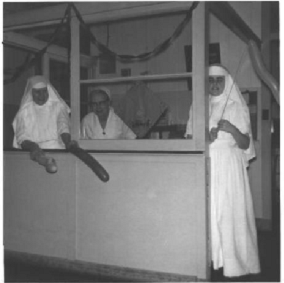 When May was repatriated December 2, 1943, she returned to 256 Wellington Crescent where her family lived in Winnipeg. She recuperated here for several months, gaining back the weight that she lost while detained in Hong Kong. On April 6, 1944 in Halifax, May was presented with the Royal Red Cross, second class, by Brigadier J.C. Stewart, CBE, DSO, district officer commanding MD. From September 1944 - August 1946 May, rejoined her unit and served as part of the ship's staff on the TSS Letitia, a hospital ship that operated in the Atlantic and Pacific war theatres. In October 1945, May was briefly reunited with some of the Hong Kong POW's in Hawaii, as they recuperated before returning to Canada.
August 1946 to September 1950 found May back in Winnipeg, after she was discharged from the RCAMC. In Salem, Oregon, she worked in the State sanatorium from September 1950 to October 1951; then moved to Leahi Hospital in Honolulu until October 1952. At this time her ailing father brought her back to 256 Wellington Crescent until he passed away in 1955.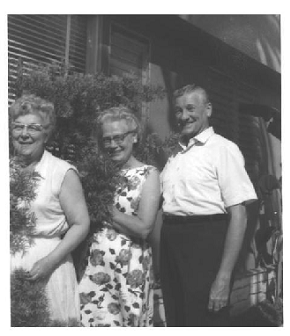 On her return to Hawaii, in April 1956, May worked with the nuns in a leper colony for almost 13 years in Kalaupapa, Molokai 7H, until she retired in May 1968 to Long Beach, California. In Long Beach, she lived close to her brother, Jack, who was lonely after his wife had passed away. May remained in Long Beach for her remaining years, making frequent trips to Winnipeg to see her family.
May loved to travel and she loved nursing as her main vocation in life as she had shown in her dedication to the many people that she cared for. She had a wide range of friends around the world and family that she always corresponded with as she was one of their favourites also.
Anna May Waters passed away December 8, 1987 at age 84. There was a quiet graveside funeral to mark the passing of this wonderful lady. She loved life and lived it well.