Received by email in May 2023.
Hi! My name is Sadie McGinn and I'm a grade 8 student at St. Stephen Middle School. This year, our Social Studies teacher directed us to complete a family research project and try to explore our family's military history. At first, I acted like any other middle schooler and concluded to just put off working until the night before it's due. Boring! Haha, it wasn't until I was talking with my dad after school about the project, when he mentioned my great grandfather for the first time. We were in the car when I first heard the name, Robert McGinn. Or the word ''prisoner of war of the far east' for that matter. My father told me some stories he had heard from Grandpa McGinn, ''Gimpy' about lice in the uniforms and sleeping head to toe in cramped prison camps. On November 8 2022, I was thinking to myself, boy, that sounds pretty bad. 8 months later, I understood back then, I didn't know the half of it. I rushed home, filled with a newfound duty, and did what I thought back then was heavy research. After hours of sifting through newspaper articles and websites, I understood, I was in for the long haul.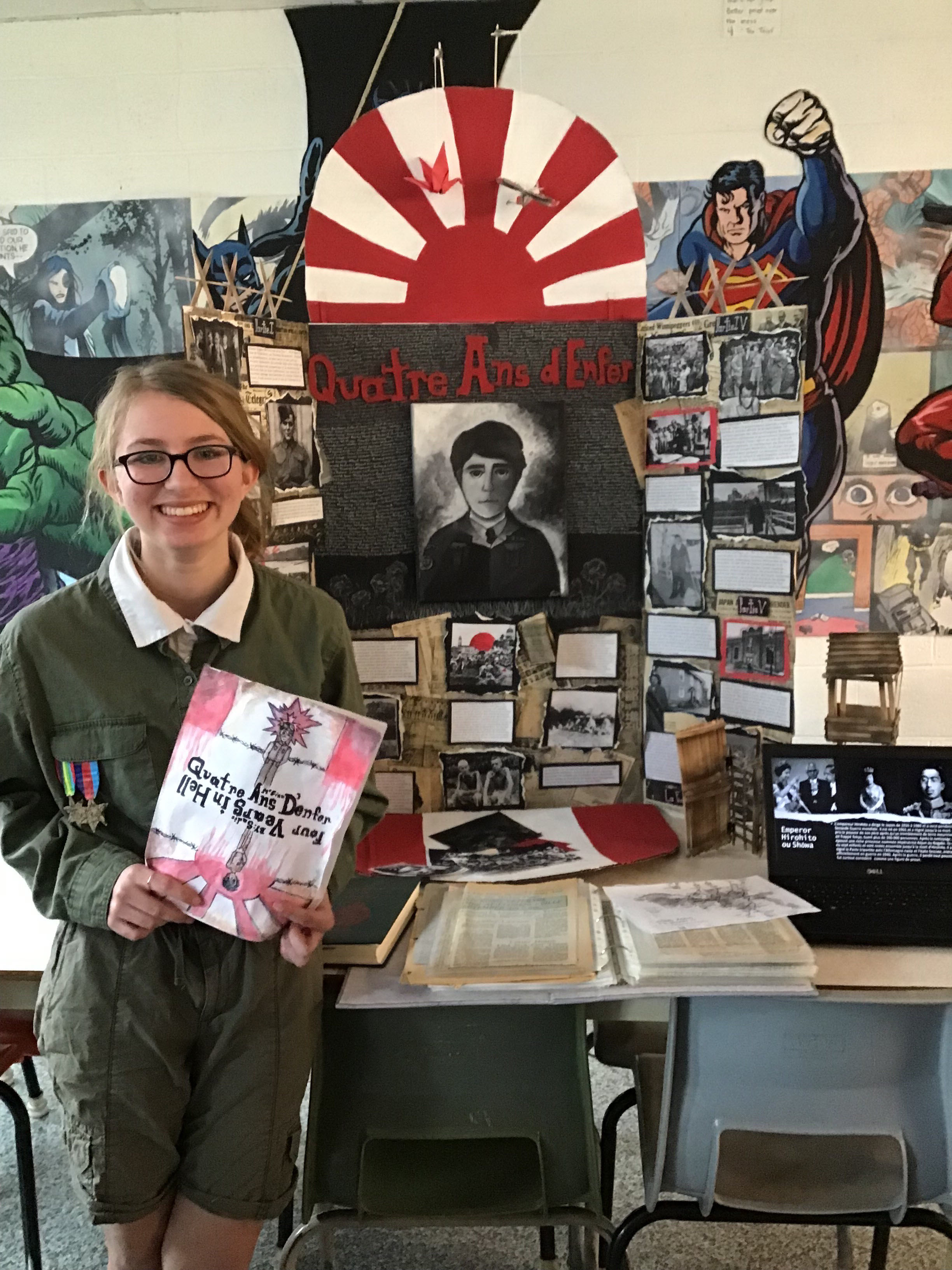 My 20 slide PowerPoint grew by the week, from 40 to 80 to at last, 100 tedious slides. By Christmas time, I couldn't imagine a world where I would ever wait till the last minute on a history project. When I finally presented my PowerPoint to my bored to death class, it took an enormous 2 and a half hours. I couldn't talk for three days. Totally worth it!
After hundreds of hours of copying and pasting pictures and self-translating English sentences into French, it was bittersweet to see all of it come an end. I had nothing to do with all my awesome knowledge on the Royal Rifles of Canada and imprisonment on the Eastern front except bore my friends to death with my constant babbling. It was then that my very teacher that had assigned this project offered up two little words that changed my middle school experience. Heritage Fair. Like I said, the long haul.
The childhood experience of dragging your parent off to the dollar store to purchase a giant white trifold board full of possibilities, is one you don't forget. Just like every kid, I was ready to channel all my passion into that one blank board. Let me tell you, I'm so, so glad I did.
I've estimated that I spent over 400 hours on my heritage fair project, including painting portraits, handwriting and recreating a memorial wall with over 800 names, and overworking the school printer. On April 5 2023, I entered the St. Stephen Middle School Heritage Fair competition with my francophone project, Quatre Ans D'Enfer. I won first place. On May 4 2023, I entered the New Brunswick Regional Heritage Fair. I won first place. On June 3 2023, I will enter the New Brunswick Provincial Heritage Fair. I don't how I will do, but I know that I wouldn't have made it this far if I hadn't had the courage to put myself out there. I am writing this long email to tell you wonderful people at HKVA that I wouldn't have come this far without your help and dedication to your cause. Thank you, thank you times a million for all the times you've unknowingly held my hand through these past eight months. I discovered things about my family's legacy and discovered things about myself I never would have known without the power of history. I've been able to repay my dad for the stories and told him some of my own about his Gimpy. I've found pictures and information to share with my papa and great aunt about their dad. I have a better relationship with my extended family thanks to you guys. Robert Eugene McGinn only gets a small page on the HKVA official website, but he holds an enormous place in my family's heart. He was a private in the Royal Rifles of Canada and the youngest Canadian POW on the Pacific Front. He was 16 years old. He deserves a lot, but the best I could do was share his story. I'm hopeful with this Provincial Showcase, I can share it with even more people. Including you guys.
Thank you to the moon and back.
-Sadie McGinn, great grand daughter of Robert Eugene McGinn, the youngest Canadian on the island of Hong Kong.
Photos of Presentation to The Honourable Brenda Murphy, Lieutenant-Governor of New Brunswick