Volume II: Exhibits to Record of Trial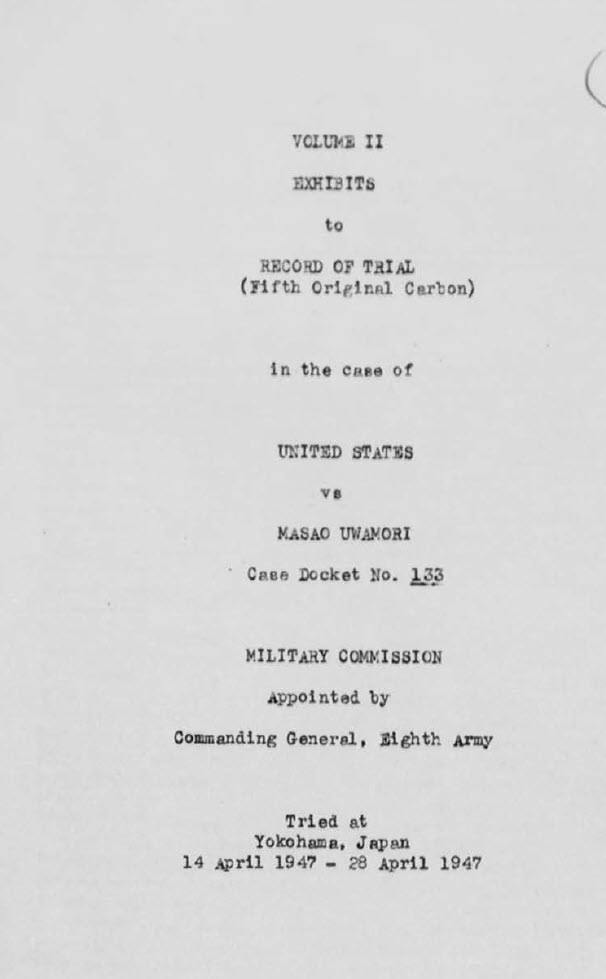 Received by email in May 2023.
File is ~80MB in size, so will be slow to download.
This document contains a wealth of detail in relation to how the POWs were treated during their internment. In addtion, the depositions provide background information on the individual, which may be of interest to family and researchers.

United States vs Kasao Uwamori, Case Docket No. 133.
Deposition List
Note: links to specific names not available. Names are listed in the order that the specific deposition appears in the PDF document (read down the columns for sequence).
H46574 Private John Caruso
E30726 Roger Cyr
E30560 Rfn Leo Pitre
C94100 Corporal Clarence Burgess
H6146 Sergeant George Haner
H50527 Staff Sergeant Ernest West
H6697 Private Mitchell Soroka
C92078 Pte Kenneth Cameron
H6175 Pte H.T. Davis
H3030 Private Charles Birch
D92784 Private C.J. Dicks
H6662 Pte Paul Luchka
E30421 Jules Provencher
C65559 Rfn Kenneth Inche
ex-Cpl Lucien Brunet
D71020 Rifleman G. Grimshaw
A9220 C.S.M George MacDonell
Major John Reid
H6755 Private James Murray
L/Cpl Joeseph Verreault
E30609 Sgt Raymond Stoddard
E30040 Rifleman Charles Chesser
B68236 Rfn George Edgecombe
H6109 Private George Lamoureux
B74345 Cpl Ralph Dewey
H6772 Sgt. John Milloy

H6834 Pte Douglas Morrison
B68310 Rfn Victor Fehr
B87802 Rfn Wallace Green
D82033 L/Cpl F. Dawson
H77520 Private Alfred Wagner
L22725 Pte August Bitzer
P17154 C.S.M A.W. Bilodeau
H77401 Pte Alexander Baraskiwich
E30088 R.Q.M.S. William Henderson
H6352 Pte George Stodgell
E29806 C.S.M. John Thomson
H6314 Pte Arthur DeVillers
H75162 Pte Wm. Hawkins
H6957 Pte Joseph Pudlo
H.E. Thornton
H41717 Pte Wilfred Tremeer
H3003 Pte Gordon Cole
B68208 Rfn Alfred Rowen
B38369 Rfn Walter Young
E30194 Rfn A. Malboeuf
H6865 Private Gerald McKnight
C6387 Rfn Mathew Murray
E29856 Sergeant Gordon Conway
E30120 Raymond Adams
E30480 Benoit Boulanger
L41404 Pte Robert Parenteau
A34973 Cpl. J.G. Axford
E30594 Rfn Kalle Ampi (actual Regt #: F30594?)
H6822 Cpl. Richard Dame

E30005 Rfn Bernard Haley
E30728 Rfn Karl Innis
H41843 Pte Steve Yormola
H41540 Pte Frederick Sadova
E30047 Rfn Henry Salter
H6685 Sgt Thomas Sinclair
G17847 Rfn Gerard Butler
H20872 Private Edward Query
B40622 Rfn Albert Graham
E30090 L/Sgt E.G. Ladds
H6734 Pte James Houston
E30071 Rfn Arnold Graves
E29805 Cpl Kenneth Addie
E30069 Rfn John Levitt
C40670 Pte Ralph Alley
Major John Reid (note that there is additonal correspondence near the end of the document)
A23075 Rfn John Gauthier
H6007 Sergeant Thomas Marsh
C97586 S/Sgt Charles Clark
B89145 Cpl Edward Curtis
H77648 Pte John Kitt
H6306 Pte Stanley Duplaga
H6625 CQMS Richar Trembeth
E30200 Rfn G. Baker
H6112 Pte Cornelius Nickel
H6380 Sgtr Charles Bamendine
K91517 S/Sgt Thomas Barton
E30494 Rfn Joseph Lawrence

Note: other related documents are a part of the PDF document, near the end.