Jack Fordyce
Submitted by Pat Hunter
William John Fordyce (better known as Jack) was born in Aberdeen Scotland August 16th, 1902.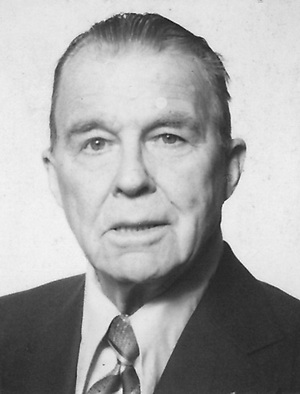 He came to Pilot Mound in 1927 and worked for farmers in the district, through which he developed the love of horses and he became one of the best horsemen of the area.
In 1939 he joined up with Winnipeg Grenadiers going first to Jamaica and then to Hong Kong. He suffered terribly at the hands of the Japanese but after all the suffering they all did and some never did return, he came back to settle in Pilot Mound.
Jack was a very good carpenter and painter so he worked around the town and the district. During the 1950's he decided to work on the pipeline which he enjoyed. This job took him to work in Saskatchewan and then he would return to Pilot Mound in the fall.
Jack had a great love for horse races and he took in the harness race circuit and also went many times to Assiniboia Downs. He never did own a horse but I am sure that would have been a big dream of his. He also had a big love for dogs and he owned a few. I remember him saying that if he had a steak his dog had one as well.
Jack lived alone in his house on Pembina Avenue until his death in 1984.He passed away in the Victoria Hospital and is buried in the Greenwood Cemetery. He and his friends and comrades were a great bunch of soldiers and they suffered, but with their sacrifices we are all here today.
Thank you to the Winnipeg Grenadiers.